Update as of May 2021: DONE!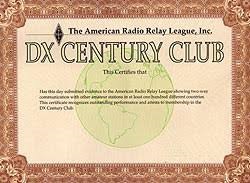 I was close to DXCC in 1982. Back in the days of paper logs, QSL Cards, the DX "Buro" (QSL Bureau), and Cycle 21, it was fairly easy for a high school kid to work lots of countries on 15 and 10 meters. Having a 3 element beam at 55′ didn't hurt either. But that was then. After being mostly inactive on HF for 20 years, moving 3 times, and leaving behind my log and QSL Cards, there's no way to get back to where I was on the quest for DXCC.
So I'm starting over.
Now we have FT-8 and LOTW, so it's a lot easier to make (and confirm) those weak signal contacts. In a little over 18 months, I'm up to 70 countries. Probably 15 or so behind where I was back then. Of course there's no real way to know if I had something then that is now unobtainable (pretty sure I had East Germany and Yugoslavia confirmed), but I'm resigned to never being on top of the honor roll. I'd just like to have the milestone checked and maybe the wallpaper…